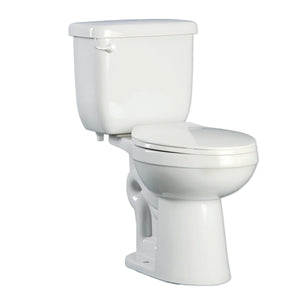 PROFLO 2 Piece Round Toilet Left Mounted Trip Lever 1.28 GPF White
All In One Box:
High efficiency toilet tank with lid (1.28 GPF)
Matching round-front toilet bowl
Fitted toilet seat with lid
All required wax rings and flange bolts for installation
Product Features:
100% factory flush tested - guaranteed to perform
Toilet fixture is constructed of vitreous china - a durable porcelain material
Fully covered under Proflo's fixture warranty for a year after installation
Two-piece configuration – flexibility in installation and access around the bowl
Round-front bowl provides a classic look and feel
Installs in a floor mounted configuration
Siphon jet flushing – water is forcibly siphoned from tank to bowl for a powerful rinse
Sanitary bar on bowl prevents liquids from traveling under the tank
Installation components (wax ring

 

with horn and bolt kit) are

 

included
Matching

 

toilet seat

 

and lid

 

included
Benefits of Proflo Toilets:
Out of the Box Installation: Going above and beyond with their toilets to ensure you have everything you need to install and begin enjoying your new fixture as soon as it arrives. With the custom fitted toilet seat, tank lever and even the wax ring included there will be no need to run to he hardware store and pick up these extras that most manufacturers do not include.
High-Grade Porcelain: The porcelain compound used in the construction of Proflo toilets is a non-porous semi-flex material that is engineered not to crack or chip over time. The small amount of "give" allows the toilet to endure typical wear and tear without compromising the integrity of the fixture.
Sanitation Bar: Proflo toilet bowls come with an integrated "Sanitation Bar." This raised portion on the back of the bowl prevents water or waste from seeping under the tank where it is difficult to clean.
Product Specifications:
Overall Height: 29-3/4" (measured from the bottom of the base to the highest point on the toilet)
Overall Depth: 28-1/2" (measured from the back of the tank to the front of the rim)
Overall Width: 15-3/4" (measured from the furthest points left to right on fixture)
Bowl Height: 15" (measured from the base to the rim of the bowl)
Flow Rate: 1.28 gallons-per-flush (EPA WaterSense Certified)
Water Area: 9" X 8" (inner bowl dimensions where water rests L x W)
Trapway Size: 2"
Flush Valve Size: 2"
Seat Post Holes: 5-1/2" (distance between toilet seat install holes)
Model: PFCT100HEWH
---
We Also Recommend